Post by furmommy on May 10, 2012 1:49:52 GMT -5
I was seriously thinking Roo would be going to a rescue as soon as I could find one to take her along with the other rescues I'm still fostering. She had been paired up by her former owner with a male named Cookie. I had no extra cages to move her into (and could not afford to buy any since I lost my job in March and don't start my new one until next week). Both she and Cookie are older chins and when I'd had them out for playtime it was mostly Cookie who ventured around and Roo seemed to be less active and didn't really want to be held or messed with. I decided to give her space and allow her time to warm up to me during our playtimes.
Last week when daddy Mickey moved into a smaller cage I found on sale at PetSmart so he could be next to Raisinette and her kits, I then had a spare cage available to move Roo into. It was next to Cookie's cage so I thought that would help with the transition. Cookie seems to be okay for the most part, but Roo has been sulking and not eating her pellets like normal. She at least ate some hay. If she went on like this I was going to have to feed her Critical Care to make sure she is getting food. I am also weighing her to make sure she isn't losing.
Tonight I took a gamble. I put Roo in one carrier and my own pet female Cocoa in another carrier and we went to the bathroom for some playtime and introduction. I had a few chinny play stations and a dust bath for entertainment. I'd been told by rescues that females are hard to introduce. I was nervous but hoped knowing my Cocoa's sweet temperament, that it would work out.
I opened both carriers and let the girls come out on their own. Cocoa made the first move and walked over to Roo's carrier and sniffed noses and there was not any sign of aggression....just friendly sniffing and hanging out together. I was thrilled!! Then they both ventured out to take dust baths and finally after a little while they sat side by side and since it was getting late I put them back into their carriers and returned each to their separate cages.
Tomorrow I'm cleaning Cocoa's cage to hopefully cut down on some of her scent and hoping Roo can come try to stay in her cage without Cocoa defending her territory. Cocoa has a wonderful Chinchilla Mansion and it would be so nice to see Roo move in so they can keep each other company and cuddle. Cocoa's been alone ever since 2005 when she lost her last cuddle buddy. Roo and Cocoa are about the same age. Cocoa is 9 and I think Roo is 8.
I hope it works out and that Roo will cheer up again and go back to eating.
I am hoping to reintroduce Cookie (age 14) to his old fellow male buddies Comet & Fearless. We'll see.....otherwise I can try to introduce him to my lone male Chili who is around 11 years old. Chili is super active though so I don't know if it would be too much for Cookie or not.
Here are a few pics from Cocoa and Roo's exciting playtime!
Roo & Cocoa getting acquainted.....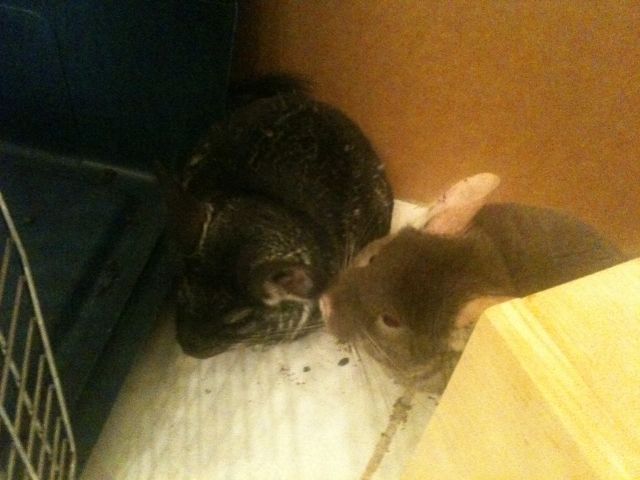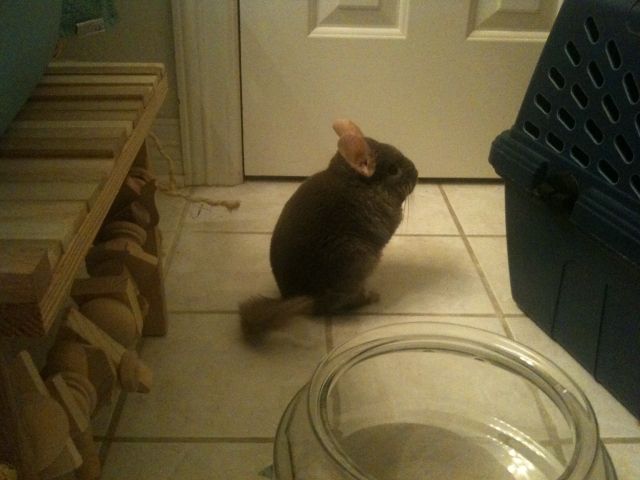 The girls playing.....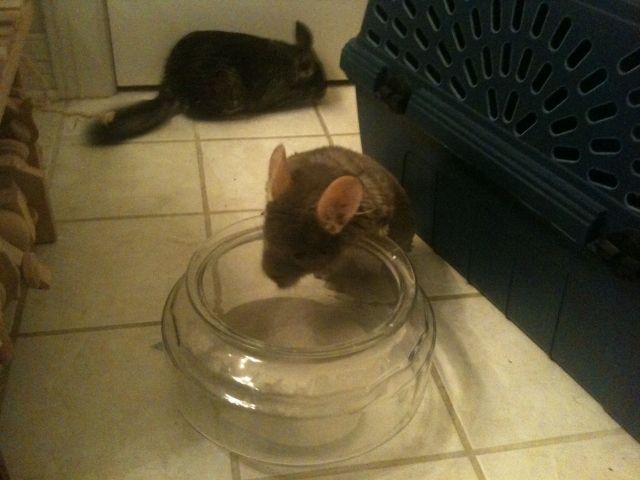 Taking turns with bath times.....
Tired from their playtime and just relaxing side by side....